Solutions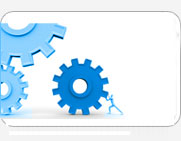 Our attitude of adapting new technologies has given lots of insights to understand publishers and content publishing requirements effectively. To maximize the content portability, our standby R&D team always adapts open-standards and introduces ready-made solutions in processes.
eBook Solutions
We transform any form of content into the following digital product.
Kindle-mobi
ePub2 & ePub3

Building Mathml out of equations
Interactive Scripts
Media assets

Fixed Layout
Enhanced ePub
Apps Development
Our development and graphics team develops future-rich "Apps" for Android & iOS platforms.
Hybrid - Developing native functions of hand-held device platforms and the power of HTML5, Javascript and CSS.
Native - Specific apps development towards Android & iOS platforms.
Cross-platform - Developing apps using HTML5, Javasript and CSS.
Interactive Media Development
In general terms interactive media design is developing any form of media that requires user input to work. Our Interactive Media development solution includes Interactive PDFs, Interactive Apps for Kids and Assessments methods, 2D Animation and Visualizations.